The Emerse Sales Function Scorecard
Are you looking to benchmark and improve your company's sales function? The Emerse Sales Function Scorecard is a tool that will provide you with the insights you need to do just that.
You'll evaluate your sales strategy, structure, and processes in under 30 minutes, which will identify areas for improvement along with giving you a list of prioritized actions you can take to improve your sales function.
The scorecard creates a heat map that allows you to see at a glance where your sales function is strong and where it needs work.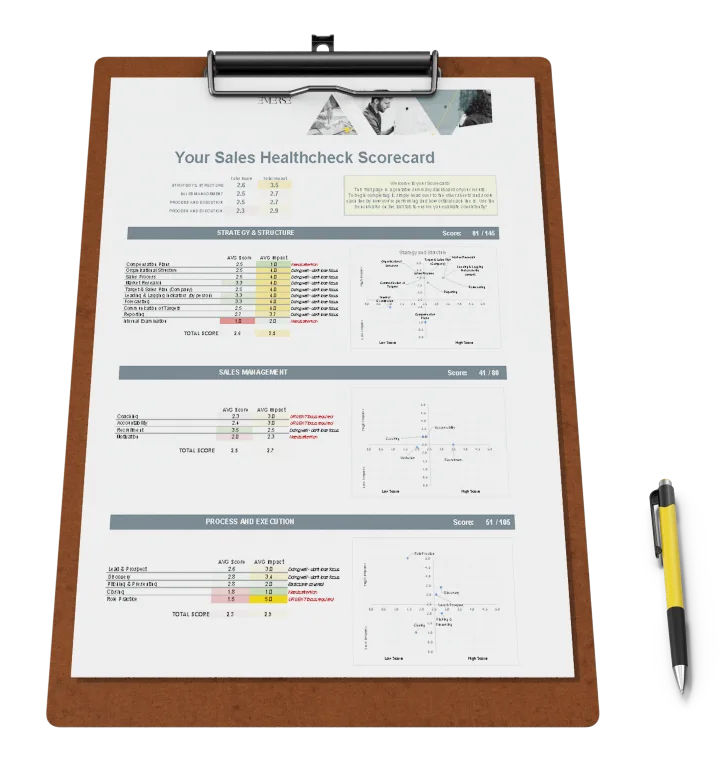 Download the Emerse Sales Function Scorecard
Fill out your details below, and we'll send you a copy of the scorecard you can use for your organization.
How to use the Emerse Sales Function Scorecard
Our Engagement Director, Oliver Tuffney, shows how to use the scorecard in this 5-minute video. Give the scorecard a try and see what interesting insights show up about your organization.
Emerse was founded in 2017 by Morné Smit.
Morné is a sales leader with over 20 years of experience in running high-performance sales teams.
The team he has assembled at Emerse leads sales development and coaching programs for businesses in 25+ industries across 3 continents.
In 2022, Morné was named as the successor for internationally renowned speaker & author Jack Daly, and now travels the world speaking on the topics of sales culture, sales management and driving sales excellence through leveraging sales playbooks.
Our purpose at Emerse is to bring excellence to the profession of sales.
If you're looking to
Build a high-performing sales team

Scale your existing sales team

Hire a sales manager or leader to set them free from managing sales

Or fix your underperforming sales management
Let's chat and see how we can partner with you to help solve your sales problems.
© 2022 All Rights Reserved.